Leather Motorcycle Gloves: A Good Warm-Weather Option?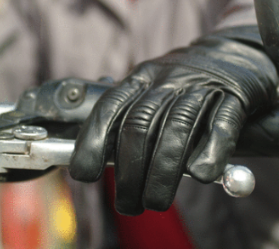 When the air temperature is like an oven, the temptation to ride without gear is always there, but hands NEED protection.
One question we're frequently asked as summer approaches is which gloves are best at keeping hands cool during hot summer rides?
Leather is a classic material, and many riders like it in the summer, even if it's not the coolest fabric for gloves.
The two main benefits of leather is the capability to breathe and it's more protective than fiber alternatives, due to better abrasion resistance.
If you're wondering what kind of glove — leather or otherwise — is best for summer months, read on.
Here is a lowdown of the latest advances in materials and styles, for maximum summertime protection and comfort. more
Best Motorcycle Gloves for Summer: Leather?
If you plan to wear leather year round, there's a trade-off.  You will be better protected, yes.  But riders seeking lots of airflow may want to opt for mesh-enhanced gloves and moisture-wicking fabrics.
Choosing a summer leather motorcycle glove:  A good choice for a summer leather glove would be uninsulated, and with perforated leather (the leather has small holes for airflow) or vented.  Or, choose fingerless leather gloves in the summer.  They offer a comfortable grip and fingers stay cool.
Leather gloves specifically made for cold weather are heavier, typically insulated and lined. They will be too heavy for summer's heat, so stow them until fall.
Note about black leather gloves: Sometimes black leather gloves will 'bleed' when wet, and turn hands black.  Sweat is one of the conditions that can trigger this. We discuss this — and how to prevent it — in a recent post about leather gloves that turn your hands black.
Here are examples of leather styles that will keep you cool and comfortable:  406 Stealth, 101 Sportster and 402 Perforated Gel.  Other good choices can be found here:
PS – Lots of rider's ask us what kind of leather is best for gloves.  Here's what you need to know …
Of the most popular commercial options, leather gloves made of cowhide are toughest, followed by goat.

Nothing beats the feel of soft deerskin. Here are examples of this favorite of many riders: 140 Deerskin I and 144 Classic Deerskin

Kangaroo has a legendary combination of strength and tactile feel

Pigskin is cheaper, and a lesser material in terms of it's protective qualities and we don't use it.
Bottom Line: Leather Motorcycle Gloves For Summer
There's a trade-off — abrasion protection vs. airflow — so if you go with leather, seek uninsulated, summer styles that are lighter weight and are designed for airflow. 
Or, grab a pair of moisture-wicking vented mesh gloves and and stow the leather gloves until fall!
We hope this helps you decide whether leather gloves are best for you this summer. If you have any questions, leave a comment!
Stay Cool and Comfortable … & Ride Safe!

P.S. We make over 70 styles of gloves, many leather, and some with 

free shipping

. To learn more about our leather motorcycle glove styles, visit a local dealer or our online store.