Win A New Pair of Summer Motorcycle Gloves!
"Name that Bike" Summer Riding Gloves Contest
Show us you know your engine sounds!
Can you correctly identify the matching roar from this motorycle engine to the motorcycle pictured below? For a chance to win a new pair of summer Olympia Motorcycle Gloves, name that sound now!
Simply listen to the audiofile. Guess which bike this engine sound belongs to for your chance to win a new pair of summer riding gloves. more
First:  Listen to the sound here or click the picture below: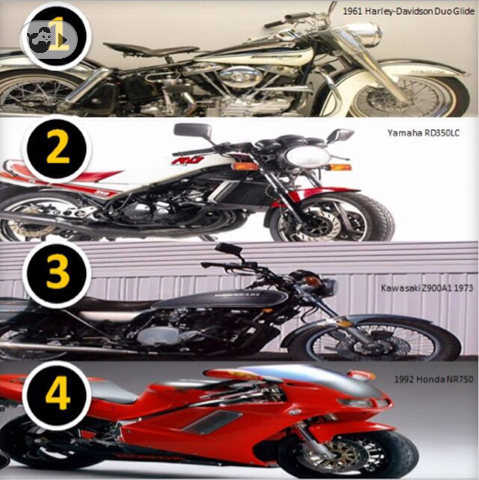 To enter:
1. M
atch the sound in the audio file to one of the four bikes pictured above
2. Click the button below, and enter your answer (#1,2,3, or 4) by for a chance to win new gloves.
Good luck!
Note: The winner will be announced on Facebook August 1st, 2014 at 7 pm EST.  If you win, you'll also be notified by email, and asked to choose your preferred summer gloves.  We will NOT use your email address for any other purpose, unless you opt-in (check box) to hear abut future promotions.

P.S.  Keep Cool!  Tips on Summer Riding Tips and Gear to Keep You Cool …
Ride Safe!!!