Top Quality Motorcycle Gloves for Under $50 Dollars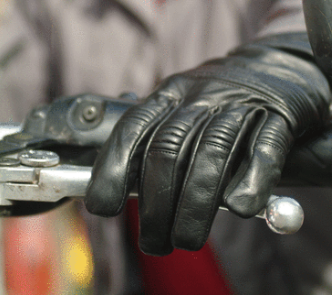 When riders ask us why motorcycle gloves cost so much, sometimes we just want to say "what are your hands worth"?

Instead, last week we explained what goes into the making of a glove. To get the best value for your money, it helps to know what you're buying.
But you don't have to spend your whole paycheck to get a good pair of gloves.
Today, we highlight 5 classic motorcycle glove styles, that offer great value.
So protect your hands … and save some bucks, the next time you need gloves.more
 Top Quality Gloves: 5 Pairs for Under $50 Bucks
While you can pay lots more for the latest and greatest, top quality motorcycle gloves can be had without putting a big dent in your wallet.
Here are 5 classic Olympia styles that you can wear right up until autumn's chill sets in:
1.  Gel Reflector Gloves = $29.95.
An extremely comfortable lightweight glove. Gel palms, flexible neoprene, and nice airflow, make these our most popular summer gloves.
2.   Ventor Gloves = $44.95
(free shipping until 9/2). Cool, vented construction with maximum airflow keeps hands cool, no matter what the outdoor temperature. Plus welcome features like gel palms, to keep hands from getting tired on longer rides. 
3.  Easy Rider Gloves = $44.95. 
Padded palms, simple padding across the knuckles, and quality glove leather make the Easy Rider a comfortable and functional riding glove.
4.   Stealth Gloves = $49.95.
(free shipping until 9/2). 
These gloves are made from soft, supple leather, with strategically positioned anti-shock silicone gel padding on the palm and base of forefinger and thumb, and a pre-curved finger design, for added comfort.
5.  Windstopper Akita Gloves = $49.95. 
Our newest design for lightweight, windproof protection. Featuring high-performance Windstopper® material from W.L. Gore.
(Note:  These are to wear now.  For really warm winter styles, you'll probably pay more, because the insulation/extra warmth is an added expense for the glove maker — unless you get lucky and find a closeout winter style).
Glove Cost: What Glove Features Are Worth Paying For?
In our experience, a cheap glove that doesn't perform, is no bargain … especially when you can get the features you want, at a reasonable price.  There are a lot of great gloves to be had for $30-50.
If you could "custom" design your next glove: What features are essential to you as a rider?  What should a glove with those features cost?  Let us know what your favorite go to glove is … leave a comment below.
P.S.  Olympia makes over 70 styles of motorcycle gloves, with a wide range of features and prices — many for under $50, and all under $100.  Making a great glove at a fair price is our goal.