The Next Generation of Touch Screen Gloves For Motorcycle Riders

What touchscreen devices or apps are essential while on the road?
How many times have you been riding, and pulled over to consult your GPS?  Or perhaps there's a weather or traffic app on your iphone that you needed to check.
More and more, we rely on our touchscreen devices, and touchscreen gloves are a great option for tapping, swiping and scrolling.
They keep hands comfortable and protected, and make these devices easier to use on the road.more
Next Generation Touch Screen Gloves for Motorcycle Riders
While touchscreen motorcycle gloves have been around for a while, the latest generation of touchscreen gloves are more useful than ever.
Updated technology includes:
Touch screen leather fingertips on the index finger and thumb, using nano-technology enabled leather
 These conductive fingertips allow you to simulatenouly tap or swipe your android or iphone with  thumb and index finger.
Gloves with conductive leather fingertips, with nanotechnology enabled leather, means that there are no seams, lumps or bumps at the fingertips … which enhances comfort in use with all your digital devices.
Introducing 2 New Touch Screen Gloves
If your last season's lighter spring gloves aren't road worthy, check out these 2 new touch screen styles:
The Roper men's style has long been a rider favorite, and is as handsome as ever.
The new women's style, which we call The Rose has the same great performance features.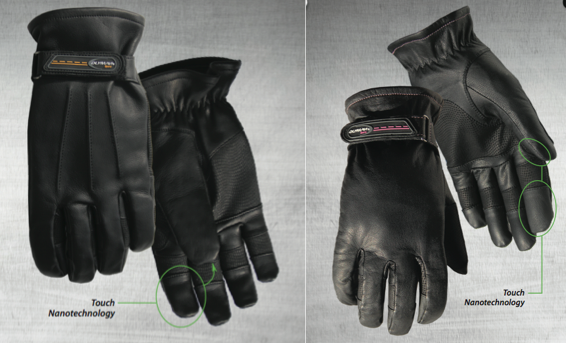 These new styles have the following updated digital performance features and lots of other great comfort features:
supple "touch screen enabled" glove leather 
a brushed tricot lining (wicks moisture and adds a bit of warmth)
curved finger construction for optimal rider comfort
a digital palm for advanced grip
Adjustable velcro strap for secure fit
Reinforced stiching to hold up to the road, mile after mile.
NEW Touch Screen Motorcycle Gloves: Review
The picture (above) really doesn't do these gloves justice … pictures rarely convey how soft or comfortable they'll feel on your hands.
Read what loyal Olympia consumer, Al G. had to say about our traditional Roper (before the touch screen enhanced tips were added):

The newest model has that same great fit and comfort, and now has been enhanced for use with touchscreen phones and other digital devices.  Hopefully Al would approve!
To learn about these or any other gloes, see below: visit a local dealer or our online store. —  we make over 70 styles of gloves, many with free shipping.

Ride safe!
OLYMPIA MAKES 7 TOUCH SCREEN MOTORCYCLE GLOVE STYLES:
Style Name/#

 MSRP     


Men's* / Women's*
Description

100LT Lined Roper "Touch"

  $39.95**
Men's only

Classic lines, super comfortable … composed of soft, supple glove leather, with a patented nano-technology finish on the fingertips that works with all touch screen devices.

Women's 110LT Lined Rose "Touch"
  $39.95
Women's only

Classic lined leather glove.  Slimmer, long-fingered silhouette specifically designed to fit a woman's hand.


Soft, supple glove leather has a patented nano-technology finish that works with all touch screen devices.

  $34.95

Men's only


Touch fabric on thumb and forefingers allows use of all touch devices. Fully-meshed back for maximum air flow while riding, leather palm with gel padding for great comfort and durability.

7300 Cold Weather Touch Screen
  $19.95+
Men's only
Quality c

onstruction includes durable, abrasion-resistant Cordura shell, textured Rubbertech palm grip for extra safety, 

Thinsulate

 insulation for warmth and 

Aquatex for waterproof, breathable, windproof protection. For winter riding,  Touch Screen enabled. Single-hand cinch. +Originally $39.95, now $19.95 (discontinued style).

 


735 Ladies Touch Screen
  $34.95
Women's only

A classic warm weather mesh glove, touch enabled for use with devices. A

nti-vibration g

el padding in palms.
  $19.95+
Men's only
A light weight,

wind resistant, moisture managed fleece glove designed to wick away moisture. W

ear alone or as a liner. Built in touch technology for all your devices; "grippy" textured palm and finger side.

C25 Women's Fleece Touch Screen
 $19.95
Women's onlly
*Note:  Men's Styles may also fit women; use size chart or contact us to determine best size.
** XXL & XXXL= $1 additional.
+ Originally $39.95, now only $19.95 as now a discontinued style.